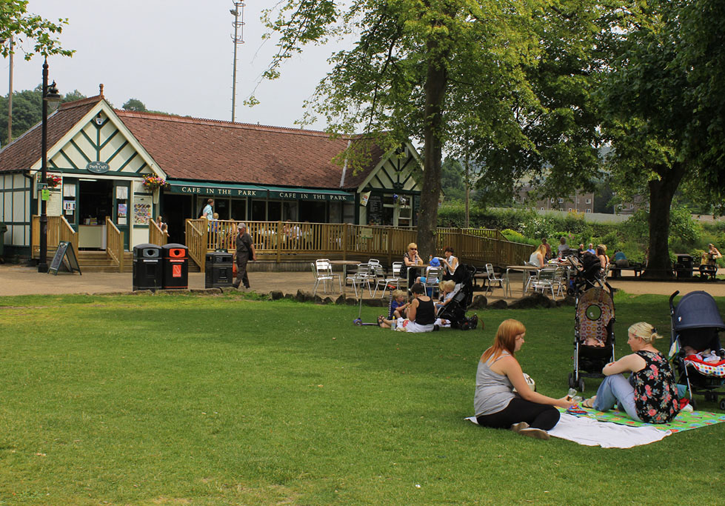 Pan-Demonium in the Park
Posted on
February 23, 2012
FLIP-FILLED fun was brought to Matlock on Tuesday as an inaugural pancake race took place in the park.
Marking Shrove Tuesday,  Matlock Mercury editor Amanda Hatfield set about organising the relay race through Hall Leys. And the new event appeared to strike a culinary chord as almost 20 competitors spread across five teams donned their frying pans and batter mixture to sprint from the starting point at Cafe in the Park, around the bandstand to the bridge where a team mate was waiting to begin the next leg.
The four-lap was race was eventually won by Cafe in the Park, but there were valiant efforts from teams that had entered from Sainsbury's, Haddon Hall, The Matlock Town Team and C Farmer Ltd electrical shop on Causeway Lane.
Some had even dressed up for the race, while dozens of spectators stopped in the park to watch the fun. All the competitors were treated to tea and cake courtesy of Cafe in the Park. Amanda Hatfield said: "It was brilliant, we will definitely stage it again next year. "It was a great first race, and a big thank you to all those who took part. "Next year we want to have so many teams we would like to have heats"!
Proprietor and captain of the winning Cafe in the Park team, Kate Lane, admitted her successful pan-carrying crew owed a lot to a speedy starlet.
Kate said: "I think we only won because of young Heidi Dring at the start, she went off like a rocket and it gave us a great lead at the beginning!"
[box type="info"] Article source Matlock Mercury; click here to read the full story and see more pictures [/box]