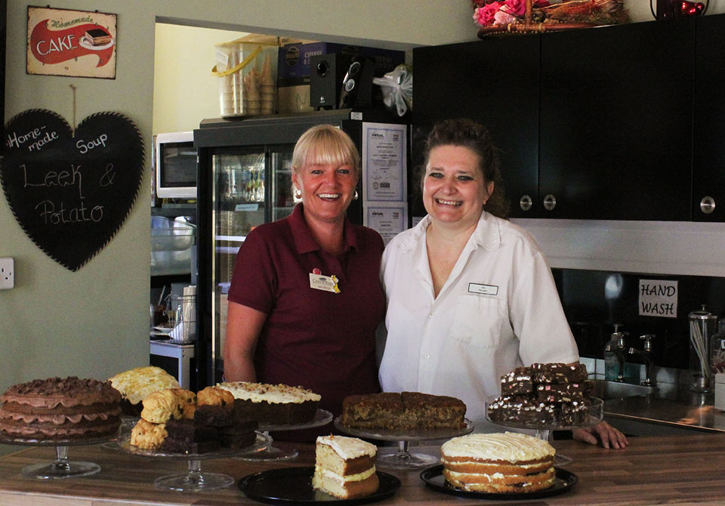 Celebrating a Decade in Business
A Traditional Matlock cafe is celebrating a decade in business by hosting a day of family fun in the park. Kate Lane, who took over Hall Leys Park Cafe ten years ago, has joined forces with arts organisation Matlock Live to mark the anniversary on Saturday, June 5th.
Kate, who lives in Matlock, said "I wanted to give something back to my loyal customers by offering free tea and coffee all day and a variety of fun activities for children."
Events will start at around 11am with a Mad Hatters Tea Party and children are invited to come in Alice In Wonderland-themed fancy dress. A parade will take place around the park at 1pm before Matlock Brass Band perform in the bandstand at 2pm.
Activities including face painting, children's storytelling, live performances, fair ground rides, a bouncy slide and a giant Scalextric will also be on offer.
Mum-of-two Kate, Kate, 38 used to work in the toy industry but decided she wanted a career change and the chance to develop her own business. She said "I just felt I needed to do something more for myself and I wanted to put my efforts into something completely different so I started off by sweeping floors and serving tea and coffee to people, seven days a week, for basically the first six years."
The business has developed over the years and now offers a range of home-made cakes, pizzas, paninis, ice cream, drinks, snacks and children's picnic boxes, at reasonable prices. Cups of tea cost 90p, coffee £1, home-made cakes start at 60p and children can buy 20p mixes of sweets.
Kate said; "When I bought the business it was much smaller and didn't really do any food, I have developed it according to what people want. I think people come because they can afford to have a bacon cob and a cup of tea and not get charged the earth. Our homemade cakes are very popular too."
Things have not always run smoothly though and, in November 2000, shortly after Kate took over, the cafe was devastated by flooding. She said: "At first I was absolutely distraught but then looking back it was the best thing that could have happened to me as, in the long term, it give me the opportunity to re-fit the interior and improve it."
Kate praised her team of loyal staff who help keep the cafe running during the summer months. She added, "You don't see traditional cafes in the park like you used to and so many people come from all over and say the appreciate the fact that the park is so lovely and well-kept and has a lovely park to go with it."
[box style="orange rounded shadow"]
Article written by Julia Rodgerson, Matlock Mercury
[/box]